September 19th, 2018
In other news: Mexican Street Dogs Fight for Discarded Human Head in Tijuana.
Via: Guardian:
Mexicans have reacted with outrage after authorities in the western state of Jalisco left a trailer full of decomposing corpses on the outskirts of Mexico's second-largest city following a wave of violence which overwhelmed local morgues.
Locals in the Guadalajara suburb of Tlajomulco complained to police after they were alerted to the presence of the trailer by the stench.
September 18th, 2018
What's next? New homes with Google hardware and software embedded in the walls?
Via: Engadget:
This week, the Renault Nissan Mitsubishi Alliance, the world's largest maker of cars, signed a deal with Alphabet's Google to be able to use Google Maps, Google Assistant and the Android OS in its vehicles. The new systems will debut starting in 2021.
"Our ambition is to offer the same customer experience inside the car as on a mobile phone," Hadi Zablit, the head of business development at the Alliance, told The Financial Times. "It is becoming an important feature when people choose their cars. It's a competitive advantage."
September 18th, 2018
Via: Bloomberg:
As things stand today, the driverless car of the future can't handle more than a dusting of snow.
It's a known problem in the field, and vaguely embarrassing when the end result is supposed to be robots sophisticated enough to navigate the uncertainties of traffic and improve on lackluster human perception. In Boston, where NuTonomy has been road testing autonomous vehicles in cooperation with city planning officials, snow and seagulls have emerged as two of the biggest obstacles. "Snow not only alters the vehicle's traction but also changes how the vehicle's cameras and sensors perceive the street," concluded a study by the World Economic Forum and the Boston Consulting Group.
For the local breed of unflappable seagulls—which can stop autonomous cars by simply standing on the street, unbothered by NuTonomy's quiet electric cars—engineers programmed the machines to creep forward slightly to startle the birds. There's not yet a solution for Boston snow.
September 18th, 2018
A few days ago, I was trying to get through a new and excruciatingly boring TV show called, The First:
The First is an American-British drama web television series created by Beau Willimon and starring Sean Penn and Natascha McElhone. The show portrays members of a team of astronauts as they become the first humans to visit Mars. The series, a co-production between American streaming service Hulu and British television network Channel 4, debuted on September 14, 2018 in the United States.
In episode one, the CEO of a fictional private space exploration company walks into her living room. A picture of what looks like a skull painted by a graffiti artist is prominently displayed above the fireplace.
Here's a partial screenshot: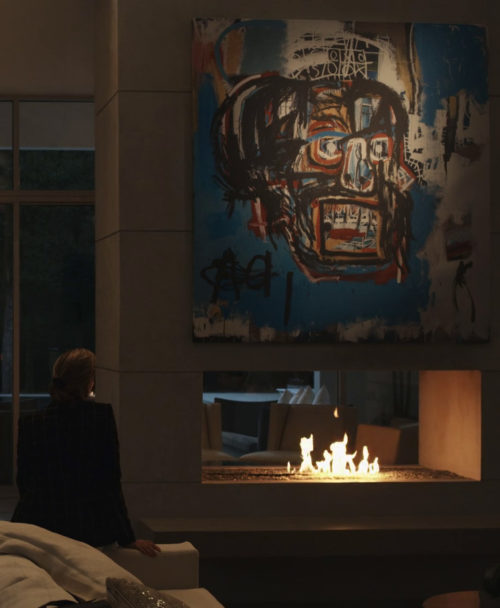 I thought, "WTF is that grotesque thing? The set designer had a bit of fun there!"
Flash forward to yesterday and SpaceX announcing that Japanese billionaire Yusaku Maezawa will travel around the moon in the company's Big Falcon Rocket (BFR).
I had never heard of Yusaku Maezawa, so I did a few searches. Within a few seconds, I saw this: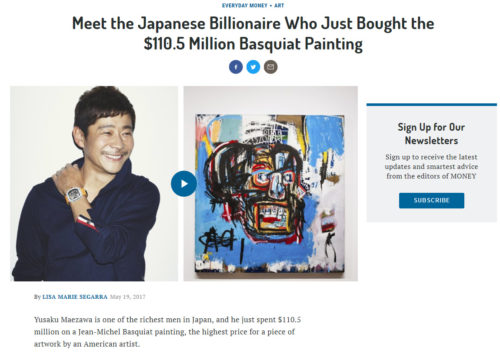 [???]
September 17th, 2018
Via: Reuters:
U.S. President Donald Trump escalated his trade war with Beijing, imposing 10 percent tariffs on about $200 billion worth of imports in a move one senior Chinese regulator said "poisoned" the atmosphere for negotiations.
Trump also warned in a statement on Monday that if China takes retaliatory action against U.S. farmers or industries, "we will immediately pursue phase three, which is tariffs on approximately $267 billion of additional imports."
September 17th, 2018
Via: Ars Technica:
Lucid Motors, the electric car startup we described as Tesla's most credible rival last year, got a shot in the arm on Monday as Saudi Arabia's sovereign wealth fund announced a $1 billion investment. The company aims to bring its first car to market in 2020.
September 17th, 2018
Via: The Verge:
This evening, SpaceX CEO Elon Musk revealed that Yusaku Maezawa, a Japanese billionaire and founder of Zozotown, Japan's largest online clothing retailer, will be the first private customer to ride around the Moon on the company's future massive rocket, the Big Falcon Rocket (BFR). Maezawa plans to fly on the trip as early as 2023, and he wants to take artists with him to turn the entire ride into an art project called #dearMoon.
September 16th, 2018
Update: Sunspot Observatory to Reopen Monday Following Security Investigation
Via: El Paso Times:
The National Solar Observatory in Sunspot will reopen Monday, according to a statement released Sunday afternoon by Association of Universities for Research in Astronomy, the organization that oversees operations at the facility.
According to AURA, the obversatory was closed due to investigation into possible criminal activity at the site.
The residents that vacated their homes will be returning to the site, and all employees will return to work this week, the release stated.
"In light of recent developments in the investigation, we have determined there is no risk to staff, and Sunspot Solar Observatory is transitioning back to regular operations as of September 17th," the news release stated.
AURA did not specify the nature of the criminal activity.
—
Via: 4:20 TV FREEDOMIST FILMS:
September 16th, 2018
Oh, so it's similar to using Google outside of China.
Via: The Intercept:
Google built a prototype of a censored search engine for China that links users' searches to their personal phone numbers, thus making it easier for the Chinese government to monitor people's queries, The Intercept can reveal.
The search engine, codenamed Dragonfly, was designed for Android devices, and would remove content deemed sensitive by China's ruling Communist Party regime, such as information about political dissidents, free speech, democracy, human rights, and peaceful protest.
Previously undisclosed details about the plan, obtained by The Intercept on Friday, show that Google compiled a censorship blacklist that included terms such as "human rights," "student protest," and "Nobel Prize" in Mandarin.
Leading human rights groups have criticized Dragonfly, saying that it could result in the company "directly contributing to, or [becoming] complicit in, human rights violations." A central concern expressed by the groups is that, beyond the censorship, user data stored by Google on the Chinese mainland could be accessible to Chinese authorities, who routinely target political activists and journalists.
September 15th, 2018
Via: BBC:
US President Donald Trump has instructed staff to move forward with the next round of tariffs on Chinese goods, US media have reported.
The tariffs are expected to apply to about $200bn worth of imports from China, including electronic parts and consumer goods such as handbags.
It remains unclear when the new import taxes – which could be as high as 25% – will go into effect.
Officials are reportedly still working on the final list of products.
President Trump ordered his staff to start preparing the tariffs this summer, escalating a dispute over what the US says are China's unfair trade practices, such as state subsidies.
The new duties would add to tariffs the US has already imposed on $50bn in Chinese goods as part of that dispute, as well as tariffs that China levied on $50bn in US goods in retaliation.
Friday's news reports that Mr Trump has ordered the US to proceed with further tariffs quoted administration sources. There has so far been no formal announcement.