April 19th, 2019
Via: USA Today:
It used to be that the vast majority of children ended up earning more than their parents. Today, however, the situation is considerably different. According to recent research on intergenerational mobility, approximately 90% of those born in the 1940s earned more than their parents, while only about 50% of those born in the 1980s do.
…
Children growing up in counties with less concentrated poverty, less income inequality, better schools, a larger share of two-parent families, and lower crime rates are significantly more likely to surpass their parents later in life. The counties where the American dream is dead include some of the worst counties to live in.
Related: Poverty Leaves a Mark on Our Genes
April 19th, 2019
Via: CBS:
A University of California, Berkeley professor is drawing attention to a gasoline "mystery surcharge" in the state – unexplained price increases in gasoline which have cost drivers $20 billion since 2015.
Severin Borenstein, professor at UC Berkeley's Haas School of Business and former chairman of the state's Petroleum Market Advisory Committee, has spent several years crunching the numbers, trying to account for the state's gas prices, some of the highest in the country.
"I'm very confident in the calculations, it's really basic arithmetic," said Borenstein.
The surcharges began in 2015, when the refinery explosion in Torrance caused what was expected to be a temporary spike in gas prices, according to Borenstein. However, the surcharge remained ever since.
"Starting in 2015, they were about 40 cents above where you would expect them to be in 2015. And in 2016, '17, and '18, they were between 25 and 30 cents higher than what you would expect," said Borenstein. "In total, that amounts to paying an extra $20 billion in gasoline since February 2015.
April 18th, 2019
Via: Scientific American:
The $14 billion network of levees and floodwalls that was built to protect greater New Orleans after Hurricane Katrina was a seemingly invincible bulwark against flooding.
But now, 11 months after the Army Corps of Engineers completed one of the largest public works projects in world history, the agency says the system will stop providing adequate protection in as little as four years because of rising sea levels and shrinking levees.
The growing vulnerability of the New Orleans area is forcing the Army Corps to begin assessing repair work, including raising hundreds of miles of levees and floodwalls that form a meandering earth and concrete fortress around the city and its adjacent suburbs.
"These systems that maybe were protecting us before are no longer going to be able to protect us without adjustments," said Emily Vuxton, policy director of the Coalition to Restore Coastal Louisiana, an environmental group. She said repair costs could be "hundreds of millions" of dollars, with 75% paid by federal taxpayers.
April 18th, 2019
And the Green Party is mostly concerned with political correctness and censorship now.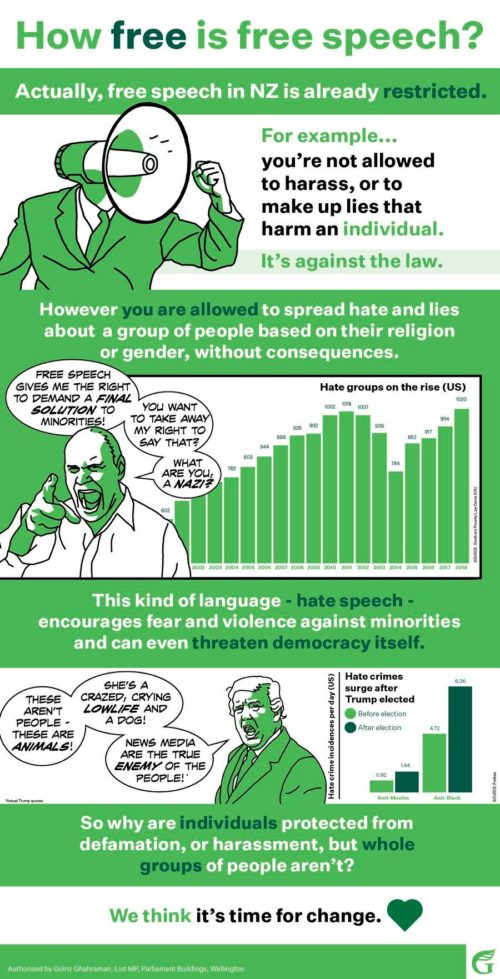 Via: Guardian:
A report on the state of New Zealand's environment has painted a bleak picture of catastrophic biodiversity loss, polluted waterways and the destructive rise of the dairy industry and urban sprawl.
Environment Aotearoa is the first major environmental report in four years, and was compiled using data from Statistics New Zealand and the environment ministry.
It presents a sobering summary of a country that is starkly different from the pristine landscape promoted in the "Pure New Zealand" marketing campaign that lures millions of tourists every year.
April 18th, 2019
Via: Big League Politics:
Prosecutors have asked to present evidence in the NXIVM sex cult racketeering trial showing that NXIVM leaders including Nancy Salzman and Clare Bronfman illegally bundled money for Hillary Clinton's 2008 presidential campaign by compelling members to donate to Clinton and then reimbursing the members.
…
The prosecutors state:
"Campaign Contribution Evidence i. Facts At trial, the government intends to introduce witness testimony and documents demonstrating that in 2007, the defendants and their co-conspirators were involved in an illegal scheme to exceed contribution limits to a presidential primary campaign.
Witness testimony, corroborated by documentary evidence, will demonstrate that at least 14 members of the Nxivm community, including at least five defendants and co-conspirators, made the maximum campaign donation to a primary campaign with the understanding that they would be reimbursed by Bronfman or Nancy Salzman.
At the suggestion of a political operative, who has since pleaded guilty to an unrelated New York state bribery charge also involving campaign contributions, the contributions were "bundled" and presented to the candidate at a fundraising event attended by conspirators, including Nancy Salzman.
April 18th, 2019
Via: Guardian:
Germany's troubled Deutsche Bank faces fines, legal action and the possible prosecution of "senior management" because of its role in a $20bn Russian money-laundering scheme, a confidential internal report seen by the Guardian says.
The bank admits there is a high risk that regulators in the US and UK will take "significant disciplinary action" against it. Deutsche concedes that the scandal has hurt its "global brand" – and is likely to cause "client attrition", loss of investor confidence and a decline in its market value.
Deutsche Bank was embroiled in a vast money-laundering operation, dubbed the Global Laundromat. Russian criminals with links to the Kremlin, the old KGB and its main successor, the FSB, used the scheme between 2010 and 2014 to move money into the western financial system. The cash involved could total $80bn, detectives believe.
April 17th, 2019
Via: Teslarati:
SpaceX has announced a launch target of May 2019 for the first batch of operational Starlink satellites in a sign that the proposed internet satellite constellation has reached a major milestone, effectively transitioning from pure research and development to serious manufacturing.
R&D will continue as SpaceX Starlink engineers work to implement the true final design of the first several hundred or thousand spacecraft, but a significant amount of the team's work will now be centered on producing as many Starlink satellites as possible, as quickly as possible. With anywhere from 4400 to nearly 12,000 satellites needed to complete the three major proposed phases of Starlink, SpaceX will have to build and launch more than 2200 satellites in the next five years, averaging 44 high-performance, low-cost spacecraft built and launched every month for the next 60 months.
April 16th, 2019
The sound…
Via: Boston Dynamics:
It only takes 10 Spotpower (SP) to haul a truck across the Boston Dynamics parking lot (~1 degree uphill, truck in neutral). These Spot robots are coming off the production line now and will be available for a range of applications soon.
April 15th, 2019
Via: MedNews:
It's no secret that health experts and nutritionists have been wary of high fructose corn syrup for years. But now they have one more reason to advocate against it: a new study published in the journal Science says that the sugary substance boosts the growth of cancerous tumors in mice.
The study, conducted by researchers at Cornell University and Baylor University, found that consuming a modest amount of high-fructose corn syrup every day—about the equivalent of drinking one can of soda—can accelerate the growth of cancerous tumors in mice's intestines.
As part of the research trial, scientists generated mice with early-stage colon cancer. Then, the scientists gave the mice a moderate amount of sweetened water, with 25% high fructose corn syrup, each day. The amount was a modest amount, meant to mimic a human's daily consumption of one can of sugary soda. After two months, the mice developed tumors that were higher-grade and larger in size than those mice treated with only water.
April 15th, 2019
Via: Slashdot:
Nearly everything we buy, how we buy, and where we're buying from is secretly fed into AI-powered verification services that help companies guard against credit-card and other forms of fraud, according to the Wall Street Journal.
More than 16,000 signals are analyzed by a service called Sift, which generates a "Sift score" ranging from 1 to 100. The score is used to flag devices, credit cards and accounts that a vendor may want to block based on a person or entity's overall "trustworthiness" score, according to a company spokeswoman.
From the Sift website: "Each time we get an event be it a page view or an API event we extract features related to those events and compute the Sift Score. These features are then weighed based on fraud we've seen both on your site and within our global network, and determine a user's Score. There are features that can negatively impact a Score as well as ones which have a positive impact."
The system is similar to a credit score except there's no way to find out your own Sift score.