April 25th, 2019
Enable face recognition so the system can tempt Bubba with three cents off his next bag of Doritos
with alerts on his phone as he's standing in front of the chips.
Via: AP:
Inside one of Walmart's busiest Neighborhood Market grocery stores, high resolution cameras suspended from the ceiling point to a table of bananas. They can tell how ripe the bananas are from their colour.
When a banana starts to bruise, the cameras send an alert to a worker. Normally, that task would rely on the subjective assessment of a human who probably doesn't have time to inspect every piece of fruit.
The thousands of cameras are a key feature of Walmart's Intelligent Retail Lab, which officially opens inside this 50,000-square-foot store on Thursday. It's the retail giant's biggest attempt so far to digitize the physical store.
Walmart envisions using the cameras, combined with other technology like sensors on shelves, to monitor the store in real time so its workers can quickly react to replenish products or fix other problems. The technology, shown first to The Associated Press, will also be able to track when shelves need to be restocked or if shopping carts are running low. It can spot spills and even detect when more cash registers need to be opened before long lines start forming.
April 25th, 2019
Via: Economic Collapse:
Are you ready to cough up $220,000 to pay your share? One of the reasons why a day of reckoning for the U.S. economy is inevitable is because we are in way too much debt. The 22 trillion dollar debt that the federal government has accumulated gets most of the attention, but the truth is that we would still be 50 trillion dollars in debt even if the national debt was eliminated somehow. Today, debt levels are exploding on every level of society. Corporate debt has more than doubled since the last financial crisis, U.S. consumers are more than 13 trillion dollars in debt, and state and local governments are piling up debt as if tomorrow will never come. According to a Federal Reserve chart that you can find right here, the total amount of debt in the U.S. financial system has now reached an astounding 72 trillion dollars.
April 25th, 2019
Via: The Verge:
The documents also show a deeply automated tracking and termination process. "Amazon's system tracks the rates of each individual associate's productivity," according to the letter, "and automatically generates any warnings or terminations regarding quality or productivity without input from supervisors." (Amazon says supervisors are able to override the process.)
April 25th, 2019
In other news: Facebook's new chief lawyer helped write the Patriot Act.
Via: MIT Technology Review:
To most of us (and to the FTC), $3 billion to $5 billion is a whopping sum of money. But Facebook, which earns $56 billion in revenue every year, can potentially just write it off as a cost of doing business.
April 24th, 2019
I was so thrilled to find this, I thought I'd share it with you folks.
Normal-sized coffee cups feel like thimbles to me. I've found a couple of larger mugs to use over the years, but my children have broken them all.
I went looking for a large, double walled, stainless steel mug.
Ahhh, my search is finally over: MUKOKO Insulated Coffee Mug 20 oz: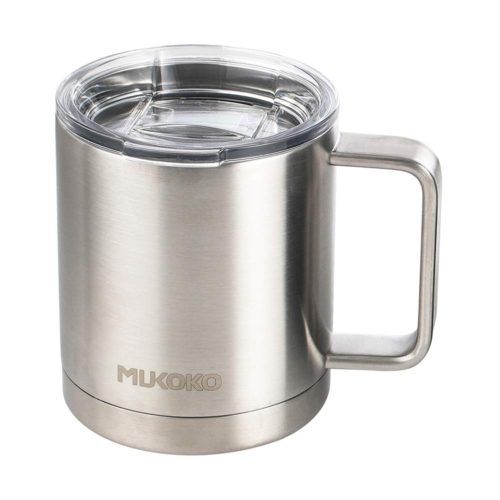 Smaller sizes are also available.
April 24th, 2019
With Ford, who wants to increasingly focus on milking truck profits, it could get ugly over there in a couple of years when Rivian and Tesla enter the pickup truck market. Ford only has a hybrid F-150 planned for 2020.
Via: Reuters:
Ford Motor Co said on Wednesday it will invest $500 million in U.S. electric vehicle startup Rivian Automotive LLC, joining Amazon.com Inc in backing the potential rival to Silicon Valley's Tesla Inc.
Ford said it will use Rivian's "skateboard" – a chassis that bundles electric motor, batteries and controls – to build a new vehicle for North America. It did not provide details on what type of vehicle, and where or when it would be built.
April 24th, 2019
Via: Bloomberg:
An Amazon.com Inc. team auditing Alexa users' commands has access to location data and can, in some cases, easily find a customer's home address, according to five employees familiar with the program.
The team, spread across three continents, transcribes, annotates and analyzes a portion of the voice recordings picked up by Alexa. The program, whose existence Bloomberg revealed earlier this month, was set up to help Amazon's digital voice assistant get better at understanding and responding to commands.
Team members with access to Alexa users' geographic coordinates can easily type them into third-party mapping software and find home residences, according to the employees, who signed nondisclosure agreements barring them from speaking publicly about the program.
April 24th, 2019
Via: Nextgov:
The Pentagon's research office wants to send robots into space to inspect and repair the nation's satellites.
Today the U.S. has more than 400 military, government and commercial satellites circling the globe in geosynchronous Earth orbit, or GEO, a celestial path about 22,000 miles above the ground. These high-altitude satellites are ideal for telecommunications, meteorology and certain military applications, but when they break down, it's nearly impossible to fix something far out in the cosmos.
Enter space robots.
The Defense Advanced Research Projects Agency believes space-based robots offer the best bet for inspecting and repairing high-altitude satellites, especially with the number of satellites set to skyrocket due to a budding Space Force and federal agencies and industry ramping up operations in outer space.
Under the Robotic Servicing of Geosynchronous Satellites program, DARPA will partner with teams to build both robots that can maintain and upgrade satellites, as well as the spacecraft to move the bots through space. Once deployed, the tech would periodically check in on different satellites and service them as needed.
April 24th, 2019
Via: The Hill:
Lawmakers and civil liberties advocates are calling on the Department of Homeland Security (DHS) to halt plans to begin using facial recognition technology on nearly all departing air passengers within the next four years.
The agency's plan has reignited the fight over the sensitive technology. Critics say facial recognition technology is not ready for large-scale deployment and that DHS has failed to establish specific rules to prevent abuses and policies for handling the collected data.
"The Department of Homeland Security is plowing ahead with its program to scan travelers' faces, and it's doing so in absence of adequate safeguards against privacy invasions, data breaches, and racial bias," Sen. Ed Markey (D-Mass.) said in a statement to The Hill. "Homeland Security should change course and stop its deployment of facial recognition technology until it meets that standard."
Markey and Sen. Mike Lee (R-Utah) have raised these concerns with DHS over the past year, releasing statements and sending letters to the agency urging it to halt the program until it puts specific safeguards in place. So far, according to Markey's office, the department has ignored their warnings.
April 24th, 2019
Via: Politico:
The U.S. Navy is drafting new guidelines for pilots and other personnel to report encounters with "unidentified aircraft," a significant new step in creating a formal process to collect and analyze the unexplained sightings — and destigmatize them.
The previously unreported move is in response to a series of sightings of unknown, highly advanced aircraft intruding on Navy strike groups and other sensitive military formations and facilities, the service says.
"There have been a number of reports of unauthorized and/or unidentified aircraft entering various military-controlled ranges and designated air space in recent years," the Navy said in a statement in response to questions from POLITICO. "For safety and security concerns, the Navy and the [U.S. Air Force] takes these reports very seriously and investigates each and every report.
"As part of this effort," it added, "the Navy is updating and formalizing the process by which reports of any such suspected incursions can be made to the cognizant authorities. A new message to the fleet that will detail the steps for reporting is in draft."
To be clear, the Navy isn't endorsing the idea that its sailors have encountered alien spacecraft. But it is acknowledging there have been enough strange aerial sightings by credible and highly trained military personnel that they need to be recorded in the official record and studied — rather than dismissed as some kooky phenomena from the realm of science-fiction.